Cooking with Hemp: CBD Infused Tomato and Strawberry Crostini
Posted by Andrew Gruver on Sep 10th 2019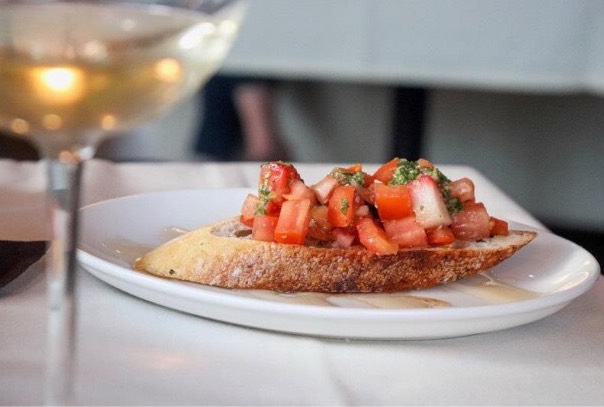 Recently, Chef Matt Borgersen of Caffe Anello, in conjunction with Our Community Harvest, hosted a dinner of several courses, each infused with high CBD hemp flower. For this dinner, they exclusively used hemp from Tweedle Farms.
After his sister became ill with cancer, Rob Mejia founded Our Community Harvest to "help companies, organizations, communities and colleges build and deploy cannabis education content and programs that inform, intrigue, train, and support cannabis professionals, and the cannabis curious." This is one of the reasons that we were so happy to be a part of this project, as Rob's ethos is very much aligned with ours.
Additionally, Chef Matt's vision for Caffe Anello mirrors ours in many ways. Known for sourcing only the highest-quality, locally-produced ingredients, Matt has created a restaurant that seeks to highlight and elevate local producers, much like we strive to do with our product offering.
Chef Matt has kindly shared one of the most popular recipes from their first dinner with us and now we are sharing it with you! Bon Appetite!
For the bruschetta
• 2 large (think softball) heirloom or beefsteak tomatoes (everyone's got different budgets) - diced
• Dozen or so cherry/grape tomatoes - quartered (like you would orange slices)
• Pound of fresh strawberries - diced (try to mimic the size of your tomato dice)
• 4 cloves minced fresh garlic (or more, don't let me hold you back)
• 1/4 of a small red onion - finely chopped (optional, if you're anti-onion, I like the little zing it adds)
• Couple sprigs of fresh parsley - finely chopped (don't be afraid to use some of the stems, they're loaded with flavor)
• Handful of grated Pecorino Romano (buy a quality chunk and grate it fresh, you'll have leftovers for snacking)
• 1 cup or so of decent extra virgin olive oil
• 1/4 cup-ish champagne vinegar (will change your homemade salad dressing game)
• Splash of white balsamic (also good to have in the fridge)
• 2ish tbl balsamic reduction (make your own or pick up a bottle of "glaze" they sell it pretty much everywhere)
• Good pinch of sea salt and a few cracks of fresh black pepper
Combine everything in a medium/large bowl (large for easy mixing, medium for fridge space - pick your battles).
Cover and refrigerate for at least 45 minutes (an hour is better to let the flavors come together and the vinegar to do its thing).
For the Crostini
• One good loaf of French bread, cut on an angle and laid out flat on a sheet pan (the ends of the loaf are ideal for snacking, see block of Romano)
• 4-5 cloves fresh garlic minced (fine mince here, think almost a paste)
• Couple sprigs of fresh parsley, finely chopped
• Good sea salt
• Extra virgin olive oil
Grab a pinch of your garlic paste and massage it into the top side of each slice. Drizzle with olive oil and sprinkle with parsley and sea salt.
Bake for 15 min at 375, edges should be slightly brown, not dark.
For the pesto dressing
• 8oz of fresh basil (avoid too many stems here)
• 1 cup of CBD infused olive oil (infused with Tweedle Farms flower, shake, or smalls)
• 1/4 cup champagne vinegar
• 1/8 cup white balsamic
• Big handful grated pecorino
• 3-4 cloves garlic (see above note about garlic prowess)
• Pinch of good sea salt
Combine in a food processor and pulse until incorporated. Set aside.
When ready to serve, heat your crostini quickly (1-2 min max in a hot oven). Arrange the warm crostini garlic side up on your serving dish, scoop on a good heap of your bruschetta mixture and finish with a teaspoon of the infused Pesto, and enjoy!