Cooking With Hemp: Pumpkin Chocolate Chip CBD Cookies
Posted by Tweedle Farms on Nov 23rd 2021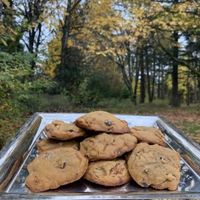 Depending on where you live, you are more than likely experiencing a palpable change of the seasons. The weather is colder, the sky is darker, the days are shorter, and for some of you, the leaves are turning red, yellow, and orange.
If you're like us, your go-to recipes are beginning to change as well! All of sudden, we have a craving for pumpkin. It's undeniable - fall is here, and with it, our recipe for CBD-infused Pumpkin Chocolate Chip Cookies!
These deliciously chewy cookies are the perfect thing to help smooth that (sometimes jarring) transition from summer to fall; and the CBD content doesn't hurt either!
Pumpkin Chocolate Chip CBD Cookies Ingredients:
½ cup melted Cannabutter
½ cup cane sugar
¼ cup brown sugar
1 tsp vanilla extract
6 tbsp canned pumpkin puree
1 ½ cups of flour
¼ tsp baking soda
¼ tsp baking powder
1 ½ tsp ground cinnamon
¼ tsp ground ginger
¼ tsp ground nutmeg
⅛ tsp ground cloves
¼ tsp salt
½ cup semi-sweet chocolate chips
Directions:
Step 1:
Spoon the pumpkin puree into a bowl and lightly blot it with a paper towel. This will remove some of the excess moisture!
Step 2:
Whisk the cannabutter, brown sugar, and cane sugar together in a bowl. Make sure it's smooth. Then whisk in the vanilla and pumpkin puree.
Step 3:
In a different bowl, whisk together the flour, baking powder, baking soda, salt, cinnamon, nutmeg, ginger, and cloves.
Step 4:
Mix the two bowls together! Once mixed, fold in the chocolate chips.
Step 5:
Cover the dough and refrigerate for at least 30 minutes.
Step 6:
When you're ready to bake the cookies, preheat the oven to 350° and line a baking sheet with parchment paper.
Step 7:
Roll the dough into balls and set them on the baking sheet.
Step 8:
Bake for 11-12 minutes. Let them set for at least 10 minutes on the counter.
Then, enjoy your CBD infused Pumpkin Chocolate Chip Cookies!