Cooking with Hemp: 3 Recipes for Valentine's Day
Posted by MagicalButter on Feb 3rd 2023
Valentine's Day is right around the corner, and our good friends at Magical (the makers of the MagicalButter Machine) were nice enough to provide us with a veritable treasure trove of Valentine's Day-inspired recipes!
Now, each of these recipes contain either CBD-infused butter (aka cannabutter) or CBD-infused coconut oil. Don't have any CBD-infused butter or CBD-infused coconut oil? Not a problem! We linked recipes for each below. Need hemp flower, smalls, or shake to do the infusions? Just click here!
Note: Obviously, the MagicalButter Machine is the perfect way to make both of these bases, on which countless recipes rely, but if you don't have one, don't fret. Our recipes are tailored specifically for you.
Cooking with Hemp: How to Make CBD-Infused Butter
Cooking with Hemp: How to Make CBD-Infused Coconut Oil
Ok, ready to dive in? Let's do it!
~
CBD-Infused Chocolate Truffles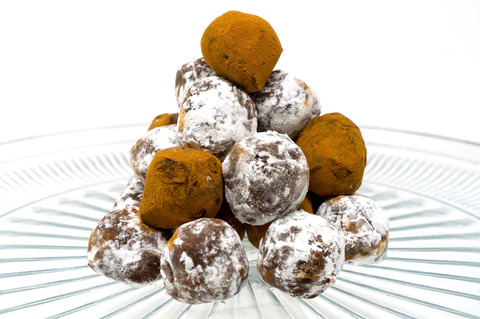 Classy, customizable, and decadent, CBD-infused chocolate truffles are a timeless way to celebrate Valentine's Day. They're as easy to make as infused brownies or fudge and far classier.
They take just a few ingredients and steps to create. The one catch is that they can melt at warm room temperatures, so you need to keep them refrigerated until serving. Keeping CBD edibles chilled is a good idea anyway, as it will help them stay potent.
Ingredients:
8 oz semisweet chocolate chips (or any other chocolate chopped into small pieces)
¾ cup heavy whipping cream
2 tablespoons CBD-infused butter
Cocoa powder/confectioner's sugar
Chopped nuts for coating truffles
Directions:
Step 1:
Heat butter and cream to a boil in a saucepan.
Step 2:
Pour butter/cream mixture over chocolate chips in a mixing bowl.
Step 3:
Let rest for 5 minutes, then stir with whisk until smooth.
Step 4:
Cover and refrigerate for 8 hours or overnight.
Step 5:
Use a spoon to form small balls with chocolate mixture.
Step 6:
Roll balls in cocoa powder, confectioner's sugar or nuts.
Store by keeping in an airtight container separated by waxed paper in the refrigerator for up to two weeks or in the freezer for up to two months.
CBD-Infused Nougat
Nougat aka torrone is a classy marshmallow-like treat that originated in Italy as a wedding candy. It's easy to make as a basic recipe, and you can also dress it up by adding fruits and nuts or dunking it in chocolate coating.
In terms of specialized equipment, you will need a candy thermometer for this recipe and it helps to have edible rice paper.
Ingredients:
3 large egg whites at room temperature
3 cups of granulated sugar
1 cup honey
1/4 cup light corn syrup
1/4 cup water
4 tbsp CBD-Infused Butter, melted
1 tbsp vanilla extract
1/4 tsp salt
3 cups almonds
Non-stick cooking spray
Edible rice wafer paper (optional)
Directions:
Step 1:
Spray an 8x11" pan with non-stick spray and line the bottom with a single layer of rice wafer paper.
Step 2:
Add sugar, honey, corn syrup, and water to a large saucepan. Put over medium heat, stirring until the sugar is dissolved. Put a candy thermometer in the sugar solution and continue to heat while monitoring the temperature..
Step 3:
When the temperature reaches 270° F, beat egg whites in a large mixing bowl with an electric mixer until they form stiff peaks. Return to monitoring the temperature of the sugar solution.
Step 4:
Once the sugar solution reaches 290° F, remove it from the heat. Turn the electric mixer back on and slowly pour the sugar solution into the egg whites.
Step 5:
Beat for a few minutes until the mixture is thick and shiny. Add salt and flavor extracts while beating. Add melted CBD-infused butter right before you're done and continue to mix until well distributed.
Step 6:
Turn off the mixer and stir in almonds with a spoon. Quickly spoon out mixture onto the rice wafer paper and spread into an even layer with a spatula or butter knife. Put another layer of rice wafer paper on top.
Step 7:
Place another pan of the same size on top of the rice wafer paper so it's pressing down evenly. Put a heavy object like a book or stockpot on top of it.
Step 8:
Let sit for about three hours until cool.
Step 9:
Remove the pan that's covering the torrone. With a greased knife, cut the torrone into rectangles. Wrap in wax paper and keep in a sealed container at room temperature for up to two weeks.
If you don't have or can't find rice wafer paper, make sure you grease your pan very well and also grease the pan you place on top of your torrone. Wrap with wax paper as normal.
For an alternative flavor, try adding ½ tsp of orange blossom water or orange extract.
CBD-Infused Heart-Shaped Red Velvet Pancakes
Red velvet heart pancakes check all the boxes for a great Valentine's day breakfast or brunch: they're easy-to-make, memorable, and delicious.
Pancake Ingredients:
½ cup CBD-infused butter, melted and divided in half
½ cup buttermilk
1 egg
1 cup all-purpose flour
⅓ cup organic cane sugar
3 tablespoons unsweetened cocoa powder
1 teaspoon red food color
½ teaspoon baking soda
½ teaspoon salt
3 tablespoons powdered sugar
Raspberry Syrup sauce ingredients:
2 cups Brown Sugar
1 cup Raspberry Juice
½ cup CBD-infused butter, room temperature
¼ tsp Vanilla Extract
Directions:
Step 1:
In a small bowl combine milk egg and butter; whisk thoroughly.
Step 2:
In another bowl combine flour cocoa powder sugar baking soda and salt; mix well.
Step 3:
Add milk mixture and whisk together just until all of the ingredients are combined leaving the batter slightly lumpy.
Step 4:
Heat your pan over medium heat for 60-90 seconds.
Step 5:
Butter the pan then pour about ¼ cup batter into for each pancake.
Step 6:
Cook for about 2 minutes or until edges set up and the top is bubbly.
Step 7:
Carefully flip the pancake and cook for another 1-2 minutes to cook the pancake through.
Step 8:
Repeat with rest of the batter.
Step 9:
Dust the pancakes with powdered sugar and serve with your favorite syrups and toppings.
~
There you have it folks! 3 recipes that are sure to make your sweetheart feel extra special on Valentine's Day!
Remember, if you need extra ingredients for your infusions, you can get your flower, smalls, and shake right here at Tweedle Farms. You can even get a MagicalButter machine!
Give us a call if you need anything else. We're always happy to help!