Cooking With Hemp: CBD-Infused Tahini Chocolate Chip Cookies
Posted by Tweedle Farms on Aug 3rd 2023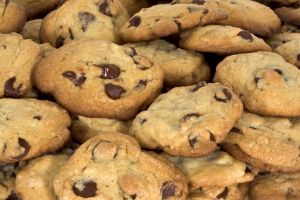 For this round of our Cooking With Hemp series, we decided to go with something a bit more innovative, daring even.
In that spirit, we bring you our CBD-Infused Tahini Chocolate Chip Cookies.
Ok, we're kind of joking. Tahini isn't a crazy thing to include in this recipe. In fact, when used in a cookie, it pretty much just takes the place of butter. At most, it adds a bit of nutty complexity to the cookie, something which is amplified (quite deliciously, we might add) by the sprinkle of sea salt atop the finished cookies that this recipe calls for! Another great thing about this nuttiness? It plays well with the herbaceous flavor that our hemp flower can impart to a potent batch of cannabutter or CBD-infused coconut oil!
Are you reading this and thinking, "wait, what's Tahini?" It's a paste made from hulled sesame seeds. You can purchase it in just about any grocery store. It's vegan and gluten-free, but also wonderfully rich and creamy. It also pairs well with a big bowl of CBD flower, but really, what doesn't?
Before we dig in, do you need some hemp flower, smalls, or shake to make your CBD-infused oils? What about a recipe for cannabutter or CBD-infused coconut oil?
Onto the recipe!
Ingredients
½ cup Tahini
4 oz cannabutter or CBD-infused coconut oil
½ cup white sugar
½ cup brown sugar
1 egg
1 egg yolk
1 cup flour
1 tsp vanilla extract
½ tsp baking powder
½ tsp baking soda
1 tsp kosher salt
1 ½ cups chocolate chips (or 2 cups, if you're like us ;) )
Large flaked sea salt
Directions
Step 1
Mix your cannabutter, tahini, white sugar, and brown sugar together. Like, really mix them for a few minutes until they're nice and fluffy.
Step 2
Add your egg, egg yolk, and vanilla extract to your cannabutter and tahini mixture. Mix them for a few more minutes.
Step 3
In a separate bowl, add your dry ingredients. We're talking about your flour, baking soda, baking powder, and kosher salt. Mix them up.
Step 4
Pour your dry ingredients into the bowl holding your cannabutter, tahini, and sugar. Mix them until combined.
Step 5
Add your chocolate chips!At this point, you can cover your dough and refrigerate it overnight. That's what will ensure the most delicious cookie. Depending on our CBD flower intake for the day, we don't always do this.
Step 6
Preheat the oven to 325 degrees, line a baking sheet with parchment paper, and spoon your dough into 12 balls.
Step 7
Cook them for about 14 minutes. We prefer doughy cookies, so we'll often take them out at about 13 minutes, but if you like a crispier cookie, leave them in for 15 minutes.
Step 8
Right after removing them from the oven, while they're still hot, conservatively sprinkle your large flaked sea salt. Then, let them cool for 30 minutes and enjoy!
There you have it, folks.
Obviously, there's no better way to enjoy a fresh baked batch of CBD-Infused Tahini Chocolate Chip Cookies than with a big ol' bowl of CBD flower. So click this link and try one of our many cannabinoid- and terpene-rich strains.