Cooking with Hemp: Easy Pasta Salad with CBD-Infused Olive Oil
Posted by Tweedle Farms on May 31st 2023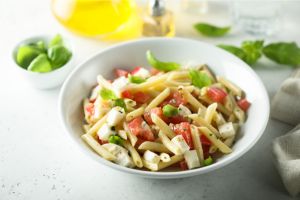 As spring transitions to summer, we're dusting off some of our favorite warm weather recipes, and this delicious pasta salad is definitely one of them! The flavors pop with a tang almost as bright as a sunny day, but thanks to the hefty dose of CBD-infused olive oil, it's perfect for an end-of-day feast!
Before we dive in, we want to make sure you've got your CBD-infused olive oil ready and waiting. If you don't already have one made, hop on over to our blog and check out our recipe entitled Cooking With Hemp: The Best CBD-Infused Olive Oil Recipe. We, of course, also have you covered with any CBD flower, small buds, or CBD shake you may need, in case you're really starting from square one! You can even get a MagicalButter machine!
Throughout the recipe, we'll highlight some of our favorite additions, as well as some things you can remove/substitute in order to make this recipe fit your specific dietary needs.
Ingredients
1lb Pasta

We like to use something like fusilli, penne, or farfalle
Note: are you gluten-free? Use a gluten-free pasta!

2lb ripe tomatoes, chopped

We do our best to use heirloom tomatoes, if possible

½ cup CBD-infused olive oil
½ cup feta cheese

Note: are you vegan? Try adding a sprinkle of nutritional yeast to this pasta salad, rather than feta cheese. Or, try a store-bought vegan feta substitute!

¼ capers or olive tapenade (or both!)
2 garlic cloves, minced
1 large sprig of basil, plus ½ cup torn basil leaves
Salt and pepper to taste
Red pepper flakes to taste
Directions
Step 1
Add your tomatoes, garlic, capers (and/or tapenade), and sprig of basil to a large bowl and toss all of the ingredients together. After about five minutes, add your ½ cup of CBD-infused olive oil and stir it all up. At this point, add your salt, black pepper, and red pepper flakes, based on your own preferences. Once it tastes right, let it marinate, covered, for 1-3 hours - the longer the better! This is going to make a thick, rich, CBD bomb of a dressing, so it will get better and better with each passing minute!
Step 2
Make your pasta! You all know how to do this, right? Just make sure to heavily salt the water and pull out the pasta while it's still al dente. Drain well, let it cool for a couple of minutes, and then add it to the tomato mixture while it's still warm. Toss everything together, cover it, and let the pasta cool along with all of its delicious friends in that CBD-infused dressing. As it makes its way towards room temperature, it will soak up all of the bright, delicious, CBD-infused flavors waiting in that bowl.
Step 3
Once it's at room temperature, fold in the torn basil leaves and feta cheese, crack some fresh black pepper on top, and serve! YUM!
Easy, right?
You know what would go great with this meal as an appetizer? Why, a perfectly-crafted pre roll, of course! Or maybe just a big ol' bowl of CBD flower…
Oh, and don't forget the CBD gummies for dessert ;)