Cooking With Hemp: One Bowl Double CBD-Infused Banana Bread
Nov 15th 2022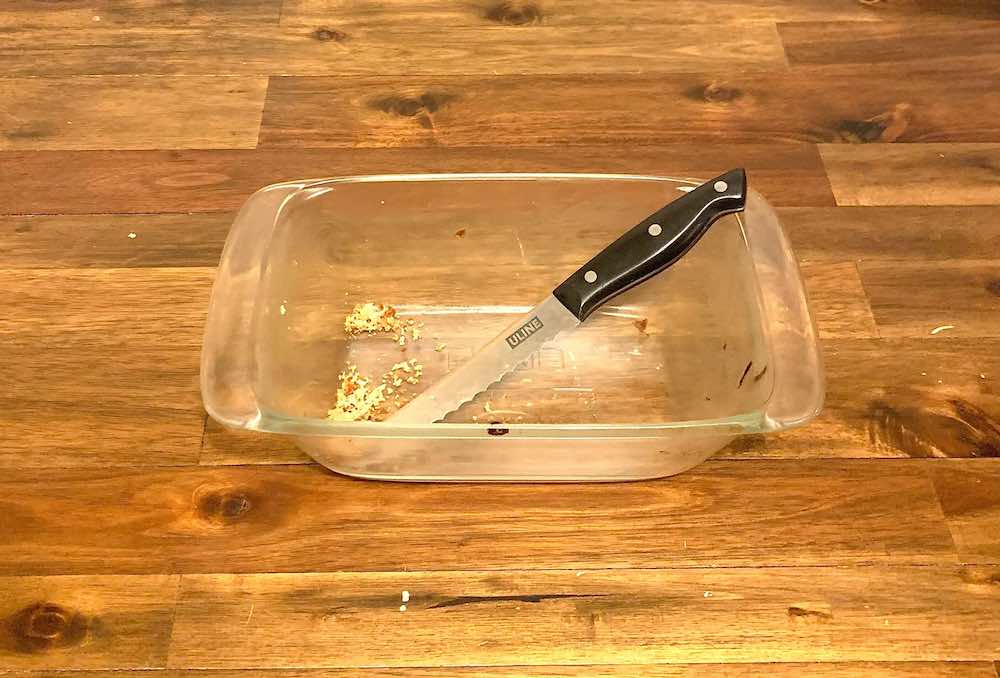 You'll notice that the above photo shows an empty dish. That's because this batch of Banana Bread was so yummy, so moist, and so *potent* that it went very quickly in our house. It was, in fact, already being eaten when it was still too hot to reasonably eat.
You know what else makes this recipe special? It's mixed in one bowl. It's quick, easy, and requires less clean-up!
So, what do we mean by double CBD-infused?
Well, this recipe calls for cbd-infused butter (aka cannabutter) as well as cbd-infused coconut oil. That's because we're substituting coconut oil for an egg in this recipe. Not only does this lead to a much more potent batch of banana bread, it also makes for a much cakier texture that we simply loved.
Time for a little honesty - we substituted coconut oil for eggs because we wanted to eat banana bread, but had run out of eggs. However, once we tasted our accidental creation, we knew we were onto something.
Before we dive in, let's go over a few important things.
What does "CBD-infused" mean?
It means that something has literally soaked up CBD; usually from hemp flower smalls or shake. In this case, we're talking about fatty oils like butter and coconut oil. These oils are adept at soaking up cannabinoids because of their high fat content. Cannabinoids, of course, are fat-soluble; meaning they are easily dissolved into fats.
How to infuse food with CBD
Because cannabinoids are fat-soluble, it's difficult to infuse them directly into food. That's why we make things like cannabutter and CBD-infused coconut oil first and then use those ingredients in recipes like this one!
How to make CBD-infused butter (aka cannabutter) and CBD-infused coconut oil
We've got recipes right here!
How to make CBD-infused butter (aka cannabutter)
How to make CBD-infused coconut oil
Ok, now onto the recipe
~
Materials
Loaf Pan (~8.5in x 4.5in)
Mixing Bowl (Only 1!)
Mixing Spatula
Ingredients
2-3 Ripe Bananas
⅓ cup CBD-infused butter, melted
½ cup sugar
¼ cup CBD-infused coconut oil
1 tsp vanilla extract
1 tsp baking soda
A pinch of sale, to taste
1 ½ cup all-purpose flour
Step 1
Preheat that oven! 350˚F.
Step 2
In your bowl, mash up the bananas.
Step 3
Add in the melted cannabutter and stir until everything is combined.
Step 4
Add the CBD-infused coconut oil and stir until well combined.
Step 5
Add the sugar, vanilla, flour, baking soda, and salt. Stir it up until silky smooth!
Step 6
If you feel like throwing anything extra in there, such as chocolate chips or walnuts, now is the time.
Step 7
Pour into the pan. Once in the pan, sprinkle a couple pinches of sugar on the top. It adds a gummy crystalized texture!
Step 8
Bake for 50ish minutes, or until a fork comes out clean.
Step 9
(Try really hard) to cool before devouring.
Tip: Eat a slice with non-infused butter on top!
~
That's it! Super easy, right?
If you make this recipe, please send us a photo! Or, better yet, post it on social media, tag @tweedlefarms503 on instagram, and we may share your photo!