Valentine's Day CBD Gift Guide 2023
Posted by Tweedle Farms on Feb 1st 2023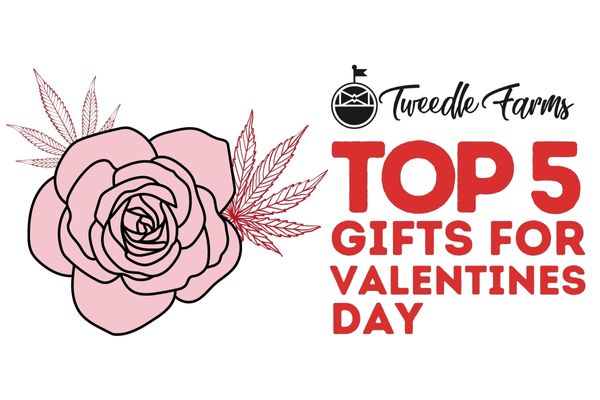 At Tweedle Farms, we're always trying to lend a helping hand. We also know how hard it can be to get the right gift for Valentine's Day. So, in that spirit, we present to you, our Valentine's Day CBD Gift Guide.
We broke our CBD Gift Guide into 5 key items and we're confident that it contains everything you need for him, her, your four-legged platonic life partner, or just about anyone special in your life.
1. A Bouquet of "Flowers"
Seriously folks, keep it simple. Spoil that special someone with a sampling of amazing, terpene-rich CBD hemp flower. Trust us when we say that our hemp flower smells better than roses, and will go a lot farther to make a special day even more special.
You can make your own CBD flower bouquet or let us make it for you by ordering our 6-strain hemp flower sampler.
Click here to shop CBD Hemp Flower
2. Homemade Goodies
Grab some CBD Smalls or Shake and go the extra mile by making your sweetheart a batch of CBD-infused treats. A homemade gift like this is sure to put a smile on your loved one's face.
If you've got a baker or chef in your life, you could also make the CBD-infused butter or coconut oil yourself and then cook together!
Click here to shop Smalls & Shake
3. Sweets
Chocolates are a thing of the past - this year, try CBD gummies!
Perhaps your sweetie isn't into sweets? Try a bottle of CBD capsules instead of a box of chocolates!
Click here to shop CBD Edibles
4. Pet CBD
What better way to show that special someone you care than by pampering their pet?
5. Massage Oil
This is the classic option. And rightfully so! A lavender scented, CBD-infused massage is the perfect thing to set the mood for a romantic day.
Click here to shop CBD Topicals
There you have it folks, our Valentine's Day CBD Gift Guide condensed into 5 options; each one, a proven winner.
Got anymore questions? Looking for a custom-tailored recommendation? Get in touch with us! We'd love to hear from you.