2020 Holiday CBD Gift Guide [Something for Everyone] - Tweedle Farms
Dec 10th 2020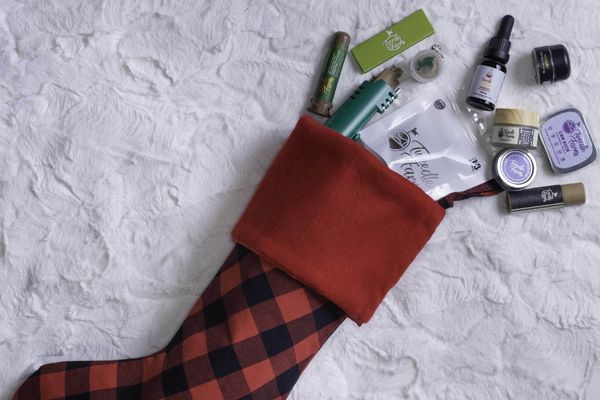 2020 has been an extraordinary year in more ways than one, and we know you'll agree that there's no better way to cap it off than with some CBD-infused gifts and stocking stuffers.
Plus, everyone knows about CBD now, right? Maybe your relatives have been asking you about it, or maybe your grandmother already counts on it as part of their before-bed ritual.
Whether the people you're shopping for are new to CBD or are already connoisseurs, we've got you covered with a variety of gifts to choose from.
Holiday Gifts For someone new to CBD
We get it. It can feel a little scary to dip your toes in new water. Fortunately, Tweedle Farms has a multitude of great options for first-timers. Plus, you can always rest easy knowing that our products are tested for purity and safety by a third-party lab.
1. CBD Bath Bombs
Who doesn't love a nice, relaxing bath? A CBD-infused bath bomb from Tweedle Farms can turn a regular bath into a truly therapeutic experience!
2. Lavender Muscle Rub
Do you have a relative that recently took up running? Or maybe they're working out extra hard to burn off those holiday calories?
Well, why not show them you care by gifting them a soothing lavender muscle rub!
3. Topicals Gift Box
Perhaps you'd like to gift that special someone the whole array of topicals, from lotion and muscle rub to massage oil and relief spray?
Or maybe you just want to get all of your shopping done at once?
Either way, our Topicals Gift Box is a great way to get the products you want at a low price!
Gifts for someone who's tried CBD, but hasn't found their perfect products yet
Lately, it feels like the whole world is talking about CBD, but with so many options out there, it can be really difficult to find a product that actually works.
That's where we come in.
As always, you can be sure that our products contain what we say they contain because everything is tested for purity and safety by an unaffiliated, third-party lab. So, why not help your friend or family member find their new favorite CBD product this year?
1. CBD Gummies
One of the best parts of the holiday season is how easy it is to justify eating copious amounts of sweets. Now, add some CBD to those sweets and you've got a winning combination as well as an awesome gift.
2. Pure CBD in MCT Oil
Our Pure CBD Oil has a mellow flavor and a lot of CBD. Plus, it's very affordable, which makes it a fun, easy addition to any stocking this holiday season!
3. CBD Tablets
CBD Sublingual tablets are fast-acting and come packaged in a small, discreet tin, making them the perfect option when you're looking for something to pass to your cousin under the dinner table at a holiday meal.
4. Edibles Gift Box
Having trouble deciding what to get? Or perhaps you'd like to get a single gift that you can use for a loved one as well as yourself?
Look no further than our Edibles Gift Box!
Holiday Gifts for the experienced CBD user
Do you have a loved one that's excited about CBD? Are YOU that loved one in your family or friend group?
Whoever that person is, they've probably already tried lots of different strains of hemp, or at least a lot of different CBD products, and we know what a daunting task it can be to find a gift for someone like that. Well, have no fear because the Tweedle Farms Gift Guide is here!
1. High CBD Hemp Flower
Our cannabinoid and terpene-rich hemp flower has won praise from old-timers and newcomers alike. So, whether you're shopping for your uncle who still remembers the 70s or your nephew who watches dab videos on Instagram, we've got a fresh hemp strain for you!
2. Full Spectrum CBD Oil
Fortified with CBD, CBG, CBN, and CBC, as well as a variety of botanical terpenes, our Full Spectrum CBD Oil is the gift that CBD-loving friend.
Plus, at only $50 for 1000mg, it might just feel like a gift to your wallet too!
3. Lifter Cartridge
It's no surprise that vapes have remained so popular in 2020. When you're stuck inside, it's a whole lot easier to hit a vape than it is to smoke a joint.
Brighten a friend's holiday with a high-CBD and additive-free vape cartridge made with pure hemp-derived terpenes!
4. Smoking Gift Box
Do you have someone in your life who you would consider an adventurer? Someone who likes trying new things and expanding their horizon?
Then our Smoking Gift Box is the perfect gift!
Packed with 4 different strains of hemp flower, 2 joints (both made with different strains than the flower!), and a vape cartridge, this box will satisfy any connoisseur's adventurous streak.
CBD Stocking Stuffers!
We all know that, sometimes, good things come in small packages and where is that more true than in the case of stocking stuffers?!
Below, we've chosen to highlight a few of our favorite small packages, each one perfectly sized for a stocking or even just a sock.
1. Lip Balm
Made with coconut oil, shea butter, and 25mg of CBD, our Lip Balm soothes and comforts chapped lips during the coldest months of the year.
2. Grinder
What do you get the hemp lover that has everything? A Tweedle Farms-branded grinder, of course!
This multi-chamber, zinc alloy grinder comes complete with a kief catcher, and it's laser-etched with the classic Tweedle Farms logo!
3. Hemp Wick Lighter
Here's another accessory that's sure to "light up" any hemp lover's day, even in the dead of winter!
Each lighter case comes with 5ft of hemp wick, so all they have to do is drop a lighter in the case, twist the wick around the bottom and they're good to go.
4. Hemp Man Shirt
Do you have a Hemp Person in your life? Maybe you've seen them in the same position as Hemp Man, with a joint hanging out of their mouth?
Regardless of how your favorite Hemp Person finds their moment of zen, show them you care with this cozy new T-shirt!
You did it! You made it to the end of the Gift Guide! We hope it helped and we sincerely hope you have a happy holiday season.